Together with partners, Ocean Sun and Fred Olsen Renewables have been awarded EC-funds for a project under the Horizon 2020 program. The other partners in the consortium are Innosea, the Technological Institute of the Canary Islands (ITC) and the Oceanic Platform of the Canary Islands (PLOCAN)
---
During the project the partners shall perform state-of-the art analyses, laboratory tests and build a full-scale 0,25MWp floating solar power unit in the sunniest part of Europe, off the coast of Gran Canaria. The offshore test location poses challenging sea conditions with up to 10m wave-heights and high winds. As such the project is an excellent opportunity for Ocean Sun to explore the outer limits of its technology. The project will also serve to qualify and certify Ocean Sun's patented floating solar technology for offshore applications in non-sheltered locations.
"The sea-state outside of Gran Canaria represent a step change for the application area for commercial floating solar technologies today. Successful operation of the special membrane solution in these waters will pave way for abundant supply of affordable renewably energy in the lower latitudes."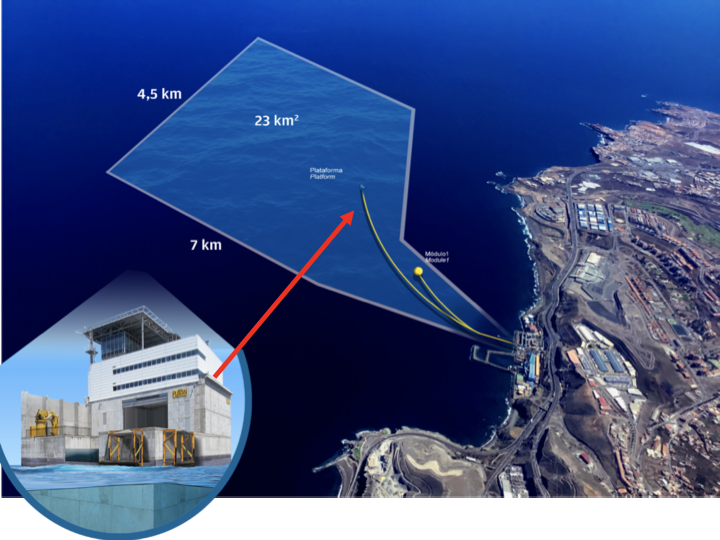 Says Børge Bjørneklett, CEO and Founder of Ocean Sun
"Fred Olsen Renewables wants to take a first-mover position as project developer, owner and operator of floating solar in selected countries in Asia and Southern Europe. This EC-project, together with our agreement with the Solar Energy Institute of Singapore (SERIS), will give us valuable insights for future commercial projects both off- and near-shore."
Says Rolf Benjamin Johansen, Director of Floating Solar, Fred Olsen Renewables
The project has a duration of 30 months and a total budget of 4 million euros. The project starts in January 2021 with design and tests in basin laboratory and will be followed by sea trials. Following the installation, all aspects of the system will be analyzed and a plan for further commercialization and large-scale deployments will be developed.
About Ocean Sun:
By combining Norwegian maritime expertise and knowledge within photovoltaics, Ocean Sun has developed an innovation that offers a bold solution to our global energy needs. The patented technology is based on solar modules mounted on hydro-elastic membranes and offers cost and performance benefits not seen in any other floating PV system today. With offices in Oslo, Singapore and Shanghai, Ocean Sun is embarking on its vision to be the world's leading technology provider of floating solar.
About Fred Olsen Renewables:
Fred. Olsen Renewables (FOR) is a leading developer, owner and operator of renewable energy assets. FOR operates in all parts of the energy value chain, from sourcing windfarm acreage to sale of electricity in the global market, developing renewable energy production in the UK, Sweden, Norway, and other countries. FOR manages all phases from concept development to detailed design, construction, commissioning, and operations.
Coming from the development of on- and off-shore wind farms, FOR is now investigating sites for commercial FPV projects. In these commercial projects the Fred. Olsen-related companies' 170 years of global experience, including shipping, offshore construction, offshore energy production, and renewable power production, is used to manage technical and financial risks in marine FPV projects.
Press release: https://oceansun.no/ocean-sun-and-fred-olsen-renewables-to-test-offshore-floating-solar-power-in-the-atlantic-ocean/
Find out more about BOOST project: https://cordis.europa.eu/project/id/965671